Hall of Fame
---
2009 Inductees
The Mid-Hudson Bowling Association Hall of Fame inducted Jon M. Leskow on April 4, 2009 at Anthony's Pier 9.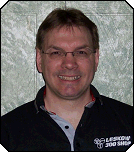 Jon M. Leskow has been elected to the Hall of Fame for Ability. Jon was born in Poughkeepsie, NY on August 14, 1964. His parents are Martin and Johanna Leskow. His Father passed away in 1998. He grew up in Hopewell Junction, NY. Jon was not interested in the game of bowling as a youth. It wasn't until he went to college that the science and mathematics part of the game got him interested in bowling steady. He went to SUNY Potsdam and graduated in 1987 with a BA in Mathematics. His bowling career took off from there. He attended Don Johnson's PBA bowling camps which helped him with the physical part of the game. Steve and Dave Ferraro are credited with the mental part of the game.
Jon bowled mainly at Southern Dutchess Bowl for most of his leagues but also ventured to Bowling Time and Tarsio Lanes. In the Mid Hudson Bowling Association Jon has had many awards and titles. His Best year was in 2000-2001 when he averaged 230 in the Dutchess Dodge Masters and 231 in the Budweiser Beacon Classic. His lifetime average in the MHBA is 215. He has had seventeen 300 games, six 299 games, and ten 800 series. His high series is 858.
In the annual MHBA tournaments Jon has also had his share of titles. He has won the All Events Net title four times, the All Events Handicap title two times, the Singles Net title two times, the Singles Handicap title once and the Doubles Net title once.
In addition to Jon's MHBA bowling, he has bowled in other associations and on the Professional Bowler's Regional Tour. He has one regional title which came in 1994 at Saratoga Springs. He also has had twelve more 300 games and four more 800 series outside the MHBA.
Jon also owned and operated a bowling pro shop called Leskow's 300 Shop at Southern Dutchess Bowl from 1992-1998. His other hobbies include poker, pinochle, chess, music, motorcycles, and humor.
Congrats Jon on your Induction into the MHBA's Hall Of Fame.