Hall of Fame
---
2011 Inductees
The Mid-Hudson USBC Hall of Fame inducted Darla M. Dreyer, Stephen W. Marsh, Dennis F. Monroe Jr., Lawrence A. Schupner Sr., and John "Jay" A. Young on April 2, 2011 at Anthony's Pier 9.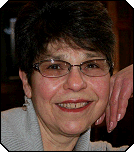 Darla M. Dreyer has been elected to the Hall of Fame for Service. Darla, who was born on July 11, 1949 in Newburgh, is the daughter of Sylvia and Joseph Ruscitti. She is the youngest of three children with older brothers, Barry and Aaron. She grew up in "Ducktown" New Windsor. Darla married her high school sweetheart, Gary A. Dreyer on February 3, 1968. They have two children, son Darryl and daughter Tamara. Darryl is married to Sarah Rosenblatt and they have four children, Jacob 12, Zachary 11, Alyssa 8 and Sophia 4. Darryl and Sarah are attorneys at their law firm, Dreyer's Law Offices. Tami has been with the Orange County Sheriff's office for more than 17 years and was the first female lieutenant in that office. She is also the first female police officer in Orange County to graduate from the FBI National Academy at Quantico, VA. Darla is president of Dreyer's Welding Service, Inc., located in New Windsor where she still resides with Gary, who is a retired firefighter from the city of Newburgh.
Darla, like other stay-at-home moms, started bowling in a learn to bowl morning league at Bowling Time Lanes in 1974. After that 10-12 week session she became president of the newly formed Convenient Food Mart League. She became the secretary of the Algonquin Women's League in 1976. She also became the president of Carmela's Summer League. Darla bowled with Phyllis and Nancy Lenardi in the Cam-Tar League on Monday afternoons. She also bowled in WASA tournaments for a year. On Saturday mornings her children started league bowling At Tarsio's. From the Junior Leagues to the Traveling Leagues, she watched them with pride and, at times, was jealous of their ability on the lanes. Darla has had many 200 games, with a high of 256, and a handful of 600's of her own.
During the past 37 years, Dreyer's Welding Service, Inc. sponsored many league teams and several tournament teams. For many years they also sponsored the Moonlighters League on Wednesday nights, the Algonquin Women's League on Friday nights, and for one year, the Newburgh Women's Bowling Association city tournament.
Darla's motto as secretary of the Algonquin Women's League was "Let's bring fun back into bowling!" As secretary, she was always looking for new bowlers to fill teams or to make sure that the league had an even number of teams. She always made sure that the women had fun bowling and was (and still is) the first one to congratulate a bowler for a good game. She cheers on bowlers whether they are her teammates or not. She is always fun to bowl with! In addition to her secretarial duties, Darla planned Christmas parties and worked on the banquet committee when no one else wanted to do it.
Darla also involved her members in events outside the lanes. These included donations of supplies to send to the GI's during the first Iraqi War, Operation Desert Storm (at least 25 packages were mailed) and a donation to Safe Homes to sponsor a family for Christmas. After 9/11, she brought tea lights to the lanes and as they flickered in the dim light the league sang God Bless America in honor of all lost.
Darla retired as secretary of the Algonquin Women's League after the 2009-2010 season after 35 years. Now she just wants to be a bowler! Some of her other interests include cooking, gardening, and bird watching to name a few.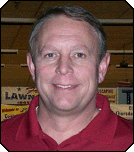 Stephen W. Marsh has been elected to the Hall of Fame for Ability and Service. Steve was born in Suffern, NY to his parents Robin and Carol on December 4th, 1965. He has a brother, Dean, and a sister, Jennifer. Steve and his wife Karen were married in 1989, and have two daughters, Kassie and Lexie. They reside in Wallkill, NY.
Steve started bowling late, having bowled only one season as a junior at Bowling Time Lanes in 1983. During his senior year at Cornwall, he met and began to date his future wife, Karen. Steve graduated in 1984 and shortly thereafter, entered the US Army where he spent 4 years based and traveling all over Europe. He began his official bowling career during this time entering his first adult league in 1987, averaging 179 with a house ball at Benjamin Franklin Bowling Lanes, in Mannheim, Germany.
After completing his time with the military, Steve returned to Cornwall in 1988 and stayed with Karen's parents, Bill and Janet, while she finished pharmacy school. During a practice session at Bowling Time lanes, he was approached by Dean Conklin and Joel Thornton who were looking for a bowler for their Tuesday night team in the Automotive Brake Classic League. Steve finished with a 197 average and on the final night, 10th frame of the final game, the League Championship was won on a missed spare by the opposing team.
The desire to compete has led Steve to many league championships in scratch and handicap men's leagues and in mixed leagues. Steve also led two teams to championship in the Mid-Hudson USBC Travel League where he averaged 228 across four houses. Currently, Steve has nine 300 games, five 299 games, two 298 games, five 11 in-a-row games, two 800 series with a high of 805, and over two hundred 700 series including twenty-nine series over 770. Steve's high average is 235 and his lifetime average is 213. He has also competed at ABC/USBC Nationals for the past 18 consecutive years.
Steve's service to the Mid-Hudson USBC began twenty years ago as a secretary/treasurer for the Friday Night Mixed League. In 1992, he became a Director of the Mid-Hudson Bowling Association. As a Director, Steve worked on all committees and programs offered. After holding positions as 2nd VP and 1st VP, he was elected President of the Association in 2005, a position he held until stepping down in 2010. During his years as President, Steve incorporated the association and led the transition from ABC to USBC and after many years of working on the relationship internally and with the Women's Association, led the merging of the two adult associations into one united organization.
Professionally, Steve has worked in management for 20 years and was recently named Executive Director of Hudson Regional LTC Pharmacy. Together with his wife, Karen, the Supervising Pharmacist, they provide pharmaceutical products and services to developmentally disabled and mental health patients in Orange, Sullivan, and Rockland Counties.
Dennis F. Monroe Jr. has been elected to the Hall of Fame for Ability. Dennis was born September 7, 1963 and is married to his wife Doreen and they have a daughter Jordan.
Dennis's dad started him bowling in the Middletown youth program at the age of 8. Dennis joined the men's leagues at the age of 16 and has been a consistent bowler ever since.
Dennis has a high series in the Mid-Hudson Bowling Association of 813 and seven 300 games as well as two 299 games, a 297 and three 290 games. Dennis has a lifetime average of 213.
Dennis, along with Mike Bianchi, holds the Elks State Tournament record for doubles with a score 0f 1556 in which Dennis shot 804.
Dennis was also inducted along with his father to the Middletown Bowling Association Hall of Fame in 2006.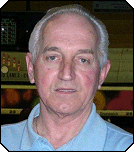 Lawrence A. Schupner Sr. has been elected to the Hall of Fame for Ability. Larry was born on October 28,1947 in Nyack, New York to the late Lillian and Edward Schupner. Larry comes from a large family of six brothers and one sister. Larry has been married to his wife Judy for thirty-nine years and has two children, one son, Larry Jr. and his wife Nora and one daughter Kim and her husband Julio. He has one granddaughter Leniz.
Larry has been employed by General Bearing Corporation for the last twenty-seven years as the receiving manager.
Larry began bowling in a league with his friends at the age of eleven. While growing up and living in Rockland County, he bowled in several different leagues in West Nyack, Pearl River and New Jersey. When he moved to Goshen in 1971, he started bowling in Bowl-O-Fun in Monroe until it burned down. The league then moved to Bowling Time Lanes in New Windsor where he continues to bowl up to this day. His son enjoys bowling but is not as committed to it as his dad is. They enjoy bowling together in the summer league.
Larry has bowled five 300 games and one 299 game. His goal is to bowl another 800 series which he accomplished once in a non-sanctioned tournament.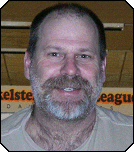 John "Jay" A. Young has been elected to the Hall of Fame for Ability. Jay was born June 22, 1960 and grew up in Stony Point, NY, an only boy with three sisters: Kathleen Rostberg, Isanti, MN, Laura Betty, Montgomery, NY and Caroline 'Missy' Deligney, Bloomingburg, NY. He graduated North Rockland H.S. and joined the US Air Force in 1978. His bowling career started while stationed at Laughlin AFB in Del Rio, Texas as a Jet Engine Mechanic. There's not a lot of entertainment in Del Rio! Jay did what every other red-blooded American soldier did on a military base. He started bowling just like his mom and dad did when he was a kid.
In 1979 Jay met Melinda, his wife of 30 years. They have two sons, Aaron and Matthew. Jay and family moved back to New York in 1982 and he soon found a league at Hi Tor Lanes in Haverstraw. After moving to Wallkill in 1984, he needed to find somewhere to bowl. He found it Saturday nights on the 'CB 13 League' which some of you may remember. Soon after, he started bowling at Stewart Field Lanes with fellow Hall of Fame members John Olsen and Vic Beam. This was the last league to bowl at Stewart Lanes before it closed in 1999. Jay also bowled in New Paltz.
Jay has bowled in the Mid-Hudson Annual Championship Tournament for more than 20 years and was a team champion in 1991, 2005 and again in 2006. He has also bowled in the National Championship Tournament since 1999, bowling in such places as Syracuse, NY, Reno, NV, Albuquerque, NM, Knoxville, TN, Billings, MT, Baton Rouge, LA and Corpus Christie, TX. He's come away with good stories and lots of laughs from each one!
Jay served as a Director of the MHBA for 15 years. He also held the office of Vice President and has been President and Vice President of several leagues.
Jay's bowling accomplishments include two 298 games, two 299 games, three 11 In-A-Row games, multiple 700 series and six 300 games. His 1st 300 was bowled on 1/23/2001 (237-231-300) and most recently on 3/28/2010 during the 71st Annual Championship Tournament– 289-300-147. Jay bowled his high series on 12/7/2009 with games of 278, 278 and 246 for an 802 series. Jay's current highest average is 226 and his current lowest is 200. His lifetime average is 204.
Over the years, Jay bowled in several leagues including the 3 Person Bruce Bryan League, Yuess Gardens Mixed, Bill Tarsio Memorial, Robert Laverty Memorial, Century 21 Prestige Realty, Mid Hudson Travel League and Weekenders Mixed. He currently bowls at Pat Tarsio Lanes on Rt. 52 in the following leagues: Alfalla's Well Drilling, Service Club and Vic Beam Memorial Weekenders Mixed. Needless to say, Jay enjoys bowling! More important than how he bowls are the friends and memories he's made over the years and the laughs they have shared together. Jay, aka "Roll-Away, Spittle and Pick-It", is a good sport. He never gets mad and can certainly take a joke (just ask Matt Vazquez and Tom Beam).
Jay's not a big talker and may not say much but when he does, pay attention. He never ceases to surprise you and usually makes you laugh. Jay is honored to become part of a long history of great bowlers in the Mid-Hudson Bowling Hall of Fame and would like to thank everyone for this great honor and experience.
Not only is Jay a good bowler, he's a good husband, father, son, friend and person who loves to have a good time. Jay, you've earned and deserve this honor. Congratulations!