Hall of Fame
---
2013 Inductees
The Mid-Hudson USBC Hall of Fame will induct Karen Marsh and Robert Johnson Jr. on April 13, 2013 at Anthony's Pier 9.
Karen Marsh has been elected to the Hall of Fame for Ability. Karen Marsh was born on April 19, 1966 in Newburgh, N.Y. to her parents William and Janet Hohn. Her brother Jeffrey sadly passed away on March 25, 1988. She went to Cornwall schools and graduated in 1984. Karen went to Albany College of Pharmacy and graduated in 1989.
Karen resides in Wallkill with her husband Steve, who she married in 1989, and their two daughters Kassie, 19, and Lexie, 16. She has been a pharmacist for 24 years and currently works for Hudson Regional LTC Pharmacy. She is a pharmacist and is the Director of Quality Assurance providing pharmaceutical services to individuals with developmental disabilities and other challenges.
Karen started bowling in the Friday Night Mixed League in 1989. She has bowled in many women's, mixed, and classic leagues including the Cornwall Women's League, Friday Night Classic, and the Jennie Consorti League with Mildred Rosenthal, Sue Rosenthal, Bonnie Colombo and Toni Faig. She has a lifetime average of 185 with a single season high of 197. Her high game is 289, has six 700 series and for ten years was ranked in the top 3% of all women bowlers in the Newburgh Women's Bowling Association. Her other interests include reading, hockey and skiing.
Congratulations Karen on your induction into the MHBA Hall of Fame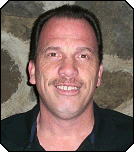 Robert Johnson has been elected to the Hall of Fame for Ability. Robert was born in Middletown, NY on Dec 11, 1964 to his parents Robert and Betty Johnson. Sadly both have just recently passed away. He has two brothers, Stephen and Andrew, and one sister Christine. His brother Stephen had passed away just under two years ago.
He grew up in Mechanicstown which is just outside of Middletown where he used to deliver the Times Herald Record every morning. On Saturdays after delivering the paper he would grab his bowling ball and walk to Middletown Lanes to bowl in the junior leagues. Rob describes his first coach as a very big guy with a deep voice, very intimidating but had a heart of gold, the late Joe Congelosi. He had other coaches like George Kline and Nancy Howell but the one coach he will never forget because he was not just a coach but a friend was the late George "Spoon" Battle.
As he got into the adult leagues he heard about all the big average great bowlers in the area but the biggest name he says was Mike Bianchi. He finally got his chance to bowl with Mike in 1984, joining them in October and they were in last place. Well, they ended up winning the league. That spurred him to want to be better, to be as good as the guys he heard about, so he bowled and practiced a lot.
Well tonight his wish to be remembered will come true. In his 21 years of bowling Rob has had fourteen 300 games, four 800 series, with a high of 844. He has also had six 11 in a row awards on his way to a lifetime average of 213. He has a high single season average of 229 and won three league high average crowns. He won the all events title in the MHBA Open Tournament in 1998.
Rob has three children, daughter Heather (25) and twin sons Robert and Kevin (23). He also has a stepson Steven. Three grandchildren Cassidy, Cameron, and Mackenzie. He lives in Bloomingburg with his wife Tammy who he married on May 26, 2012.
Congratulations Rob, welcome to the Hall of Fame!