League Jamboree
August 8th, 2017 @ 7:00PM
Pat Tarsio's Bowling Time Lanes
The league jamboree is a meeting that is designed for league secretaries to help prepare them for the new season. League materials are handed out, and changes that affect the new seasons leagues will be discussed. This is a great forum for new secretaries to learn about the duties they are responsible for, and to ask questions about topics they feel they need more information about.
The league jamboree will be held at Pat Tarsio's Bowling Time Lanes on Tuesday August 8, 2017 @ 7:00 PM.
---
Hall of Fame 2017
Joan Guthrie was elected into the Mid-Hudson USBC Hall of Fame for Service. Joan Guthrie was born in Jersey City, NJ and lived in Dumont, NJ until her junior year in high school, when her family moved to Monroe. Following her graduation from Monroe-Woodbury High School and the passing away of her father, Joan moved back to New Jersey. She kept in touch with her friends and family in Orange County and in 1972 moved back to Monroe.
Kenneth S. Kolk was elected into the Mid-Hudson USBC Hall of Fame for Ability. Born in Goshen, N.Y in 1942 to Nicholas and Marjorie Kolk, Ken grew up on his familyís dairy farm with his two sisters and younger brother. He graduated from Goshen Central in 1961, and shortly after that Ken met and married his late wife Eileen Kolk and had two children, Richard and Cindy. As a child, Ken was always helping out on his fatherís farm in one way or another. Then he went on to start his own dairy farm in 1964, and to this day he still works weekly at his farm baling and delivering hay. Ken still resides in Goshen.
---
Open 9 Pin No Tap
Saturday April 8, 2017
Pat Tarsio's Bowling Time Lanes
---
MHBA 78th Annual Tournament
Official Results
Pat Tarsio's Bowling Time Lanes
---
Mystery Doubles Tournament
February 12 - 25, 2017
Official Results
---
Karen Beam Sets Women's Record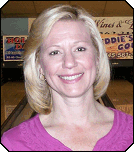 On September 28, 2016 at Pat Tarsio Lanes, Karen Beam bowled games of 289, 257, and 266 for a series total of 812. This is a new record for women in the Mid-Hudson USBC, as well as Pat Tarsio Lanes. This is also the first time a woman bowled an 800 series in the Bill Tarsio Memorial League.
In 2015, Karen was inducted into the Mid-Hudson USBC Hall of Fame for bowling ability. To read more about Karen click here.
---
Sweet Heart Scotch Doubles Tournament
Sunday January 29, 2017
Pat Tarsio Lanes
1st Place
Justin Hannigan / Michele Landis
749
We would like to thank the many participants for making our 15th Sweet Heart Tournament a success. We hope that everyone enjoyed themselves, and we look forward to seeing many of you at our upcoming tournaments.
---
Mystery Doubles Tournament
November 6 - 19, 2016
Official Results
---
4th Senior Team Championship
Official Results
Colonial Lanes
---
7th Annual Women's Championship
Official Results
Pat Tarsio Lanes
---