Karen Beam Sets Women's Record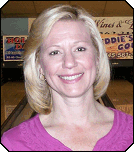 On September 28, 2016 at Pat Tarsio Lanes, Karen Beam bowled games of 289, 257, and 266 for a series total of 812. This is a new record for women in the Mid-Hudson USBC, as well as Pat Tarsio Lanes. This is also the first time a woman bowled an 800 series in the Bill Tarsio Memorial League.
In 2015, Karen was inducted into the Mid-Hudson USBC Hall of Fame for bowling ability. To read more about Karen click here.
---
Sweet Heart Scotch Doubles Tournament
Sunday January 29, 2017
For those of you that are not familiar with this type of tournament, a brief description of the tournament follows. A scotch doubles team consists of one woman, and one man. The woman bowls the first ball of frames 1,3,5,7, & 9, and the man bowls the spare. The man bowls the first ball of frames 2,4,6,8, & 10, and the woman bowls the spare. The total number of games bowled is 3.
The tournament is being held at Pat Tarsio Lanes in Newburgh, and the cost is $40.00 per team. The start time is 1:00PM, and if you would like to bowl with another couple, please turn in application by January 27th. This is a non-cash prize tournament, and all prizes will be given as gift certificates to local restaurants.
This is a non-sanctioned tournament, so anybody can participate.
Download Scotch Doubles Application